This week marks the 3rd
Hour of Code
international event. The
Hour of Code
is a grassroots effort to get people involved in computer coding and computer science. This event runs in early December in conjunction with
Computer Science Education Week
. Although there is a focus on getting everyone involved in coding during this week, learning to code is certainly not limited by dates. There are tons of activities and resources to teach kids to code throughout the year.
This post contains affiliate links. Please see disclosures for more information.
What is wonderful about learning to code is that anyone can do it. You don't even need to be sitting at a computer! The basics of computer coding rely on patterning and sequencing. These are excellent critical thinking skills that are the backbone of many disciplines including science. Learning to code allows us to take a science and technology skill and create something new.
Although I advocate for children spending time outside and playing with things that do not have screens, I believe that learning the basics of coding at a young age puts students in a better position to learn computer science and other sciences as they grow up. The reality of our world is that it is digitally driven, and I'd rather kids understand how their devices work and not simply using them blindly!
Let's look at some other resources for coding that involve devices and others that do not!
You are never too young or too old to develop coding skills! An excellent article on supporting classroom learning with computer science, particularly in Kindergarten with early readers is
"Coding for Kindergarten"
from Edutopia. The author, Sam Patterson, a K-5 technology integration specialist very clearly lays out the skills that students learn when they begin to code. Things like counting, cause and effect, planning and problem-solving. Patterson also outlines how programming promotes social learning.
"Coding Class, Then Naptime: Computer Science for the Kindergarten Set"
is another great read illustrating how learning to code at a young age (with non-screen options) can set the foundation for learning in many areas.
Examples of coding without screens:
Learning to Code with Technology
Dot and Dash are robots that teach kids how to code and program.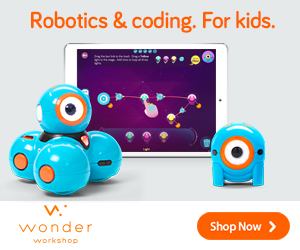 Bee Bot is another robot geared towards very young children. This is a great tool to tie into other lessons in the classroom as it helps with sequencing and problem solving.
There are tons of free and inexpensive apps and websites to teach coding.
Looking to teach coding to middle or high school?
Check out curriculum resources at
Code.org
or
CodeHS.
Some coding books to discover-